What Readers Are Saying About "Why Germany Nearly Won"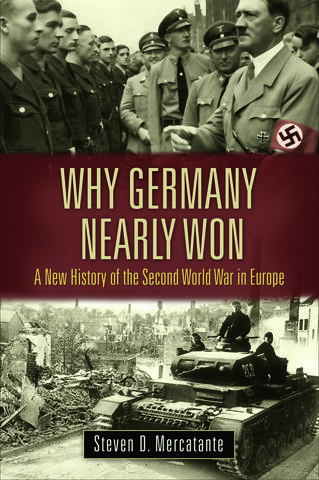 This is the Best Book on the Subject
"Steven Mercatante in his "Why Germany Nearly Won" has outdone them all. He has placed before us an intellectual banquet. I have been reading World War II history books for fifty years. That was my father's war and I grew up surrounded by veterans from every theater. I have studied history at the graduate level, and although it was not my home department in graduate school, I have known, studied under and worked with some "name" historians. So when I say this book is brilliant in conception and execution it should carry some weight with those of you who are reading this. And, might I add, it is very readable -- not some dry as dust academic tome. You may disagree with some of his points, but I guarantee reading this book will stimulate your thinking." By Mark R. Jorgenson
Not What the Title Suggested to Me at First....But That is a Good Thing
"This is one of those books that I might have passed on if not for the positive jacket blurbs by the likes of such military history heavyweights as Dennis Showalter, Robert Citino, and Richard DiNardo. A cursory glance at the title led me to believe that it was one of those alternate histories where an author attempts to make a case for Germany winning the war by discussing what might have happened if Hitler had sent a larger force to the Middle East (something that Mercatante points out should NOT have happened) or if they coordinated their moves with the Japanese, etc. Instead, Mercatante offers a refreshing interpretation of the events that actually occurred, while pointing out what might have happened if the Germans had done things a little differently. How does his approach differ from alternate history? Mercatante discards theoretical notions and strategies for a hard look at which were possible and why the Germans DID NOT adopt different courses of action. In effect, it's not alternate history, but synthesized history with a large dose of cogent analysis. Coupled with good writing, Mercatante's book represents an important contribution to the existing literature." By Writing Historian "Mark"
Read Mercatante's Book. It's great
"A brilliant contrarian history of World War II, complete with extensive statistical analyses and trenchant evaluation of hard military facts rather than nebulous theories. Mercatante persuasively argues that Nazi Germany made an entirely rational decision to go to war, intending to leverage the tactical brilliance of the German ground forces to sequentially defeat opponents and consolidate hegemony over Europe. His main thesis is that Germany came within a whisker of success, and that the weight of massive Soviet & U.S. resources was a lot less decisive than the current smug historical consensus assumes. Mercatante argues that tactical prowess and training were far more important than weight of numbers, and that the eventual Allied victory resulted from combat skill learned far too slowly and at a horrifying cost in blood, not from numerical advantage….This is an all-around wonderful book for military history buffs; the perfect antidote to the squishy sentimentalism of Stephen Ambrose-style triumphalist treacle." By Ralphdog
This will be a highly discussed and debated book
"How much you like the book will heavily depend on how much of the war you know and what you expected from the book when you ordered it but its safe to say this book will be highly discussed and debated among historians and enthusiasts. It will be debated not for its outlandish alternate histories but for its relatively simple variants on actual history as well as showing in some cases where an original good plan was changed midway in the campaign that would cost the Wehrmacht... I believe this book is worthy for interested new readers or enthusiasts who may have read similar works in the past for this book has a solid summary of the actual events of the war as well as insightful commentary that's missing from those earlier books. I believe you don't have to completely agree with the author to appreciate his presentation."  By Dave Schranck
Better training can trump more tanks ...
"This is a good read, and his analysis is well documented and supported. Regardless of whether or not you agree with his conclusions, this book provides an alternate explanation of how the war played out and just how close, perhaps, the Germans came to winning World War II. Four stars." By WryGuy2
Good read
"Very thought provoking..." By Daniel Davis
As an operational and strategic level history the book is almost unmatched and that alone makes it a worthwhile purchase
"Steven Mercatante has produced a very well written history of the war in the East that goes to the heart of why the Eastern Front is so important to World War II historiography...it is clear that the author has an almost encyclopedic grasp of the history of the war.  That is clear from the depth of his knowledge on the war's conduct.  It is obvious that some deep research went into the preparation of the work...In all, Why Germany Nearly Won: A New History of the Second World War in Europe is an intriguing book and worth reading for the detailed description of the various campaigns of the war.  This reviewer has not read such a good campaign history in a long time and that alone was refreshing...as an operational and strategic level history, the book is almost unmatched and that alone makes it a worthwhile purchase..." By Patrick Shrier