HMCS Sackville: Canada's Sole Surviving WWII Corvette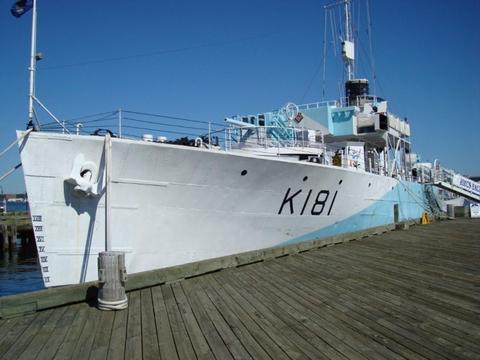 In Halifax Harbor, Nova Scotia Canada sits one of the more unique Second World War era museum ships: the HMCS Sackville. The Sackville was one of 123 Flower Class Corvettes to serve with the Royal Canadian Navy during the Second World War. As of this writing it is the last of its kind.
Corvettes are small multi-role ships that for centuries have served as a key component of the world's naval powers. Dating back to the Age of Sail, corvettes have traditionally been smaller than frigates; but larger than offshore or coastal patrol craft. Nevertheless, this means that corvettes come in a wide range of shapes and sizes. They also serve in a number of roles including; anti-ship, anti-submarine warfare, patrol, and more. In spite of a considerable variance in shape and composition one cannot automatically equate size with one maritime role over another. For instance, one of today's cutting edge Swedish Visby Class stealth corvettes weighs in at a mere 640 plus tons. On the other hand the Russian Navy's Project 20380 Steregushchy Class Corvette is one of the largest corvettes ever and displaces over 2,000 tons. Yet both pack potent firepower; including powerful anti-ship missiles and torpedoes capable of sinking much larger warships.
During the Age of Sail corvettes typically weighed in at around 60-70 tons, but by the time of World War II corvettes such as the Sackville and its Flower class brethren displaced approximately 950 tons. At less than half the size of a destroyer of their day and carrying a more modest armament (consisting of a 4-inch gun and light anti-aircraft weapons but bristling with anti-submarine weapons such as depth charges and a Mk 3 hedgehog) these corvettes were still more than capable of performing their primary wartime role of escorting Allied merchant convoys through the German U-boats favorite hunting grounds in the North Atlantic.
Commissioned late in December of 1941 the Sackville entered service early in 1942. In the ensuing two years Sackville helped escort nearly three dozen cross-Atlantic convoys. These convoys included nearly 2,000 merchant ships. To their escort's credit only ten of these ships were lost to German U-boats.  The Sackville's most notable action of the war occurred during August of 1942. While escorting a convoy off the coast of Newfoundland two different German U-boat "wolfpacks" attacked. Over the course of several days Sackville engaged and heavily damaged two of these U-boats (U-43 and U-552), and forced a third to break off its attack.
Following World War II the Sackville served in a number of civilian roles that lasted until 1982. In 1983 work began on restoring the Sackville to its 1944 wartime appearance. Since that work was completed the ship has spent its summers as a floating museum ship in Halifax Harbor, and is a Canadian National Historic Site.