Bastogne Map December 19 to 23, 1944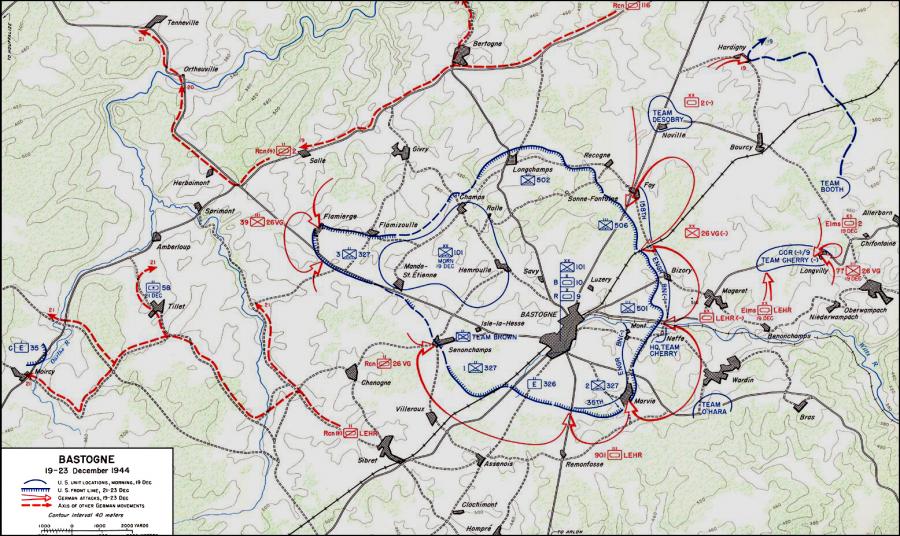 Description:
The Battle of the Bulge that began on December 16, 1944 is widely remembered today as the greatest battle fought by the U.S. Army during the Second World War. For many, the focal point of this remembrance remains the Belgian town of Bastogne. Bastogne was a critical regional communications hub, ultimately encircled and besieged by German forces from December 19th to the 26th. The elite U.S. 101st Airborne Division is correctly honored for playing the key role in preventing Bastogne's fall, and impeding the overall progress of the German offensive; in spite of facing relentless attacks led by the Fifth Panzer Army. Nevertheless, what must also be noted is that several other U.S. Army units bolstered the efforts of the veteran airborne troops.
In addition, to the men of the 101st Airborne, Bastogne's defenders included: the 705th Tank Destroyer Battalion, CCB from the 10th Armored Division and CCR of the 9th Armored Division (down to roughly 40 operational medium tanks between them as well as much reduced numbers of other AFV's from their establishment strength), the 969th and 755th Field Artillery Battalions, the 420th Armored Field Artillery Battalion, and a scattering of survivors from other units that had been swept west by the German advance.
Put together this force, in the aggregate, thus transformed the otherwise lightly armed airborne soldiers into the rough equivalent of a full strength late war panzer-grenadier division - at least in terms of armaments, if not in the coordination of arms (as the airborne troops were obviously unfamiliar with integrating tanks and other such AFV's into their operations). Nonetheless, considering that these units were fighting from within a relatively tight and cohesive defensive perimeter (in contrast to attempting to integrate operations while on the offensive), the thus reinforced 101st Airborne would be able to fuse these disparate units into a well organized defensive front. Therefore, the G.I.'s not only held Bastogne, but did so in the face of constant assaults launched by its primary antagonists; the 26th Volksgrenadier Division, elements of Panzer Lehr, the 5th Parachute Division, elements from the 15th Panzer Grenadier Division, and assorted supporting units.