WWII Vet and Famed Detroit Broadcaster Sonny Eliot Dies at 91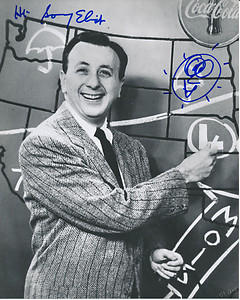 Sonny Eliot, a long time Metro Detroit weatherman and TV personality famous for his quirky personality died at his Farmington Hills home at the age of 91. An icon in the Metro Detroit region, with a broadcasting and radio career dating back to the late 1940's what many may not know is that Eliot, born Marvin Schlossberg, also spent 18 months as a POW (prisoner of war) during WWII.
Eliot enlisted after Pearl Harbor and because of some pre-war flying lessons quickly found himself in the USAAF (United States Army Air Force). As a B-24 bomber pilot assigned to the 8th Air Force, 577th Squadron, based in Norwich, England Eliot had 15 missions under his belt when on February 24, 1943 a Luftwaffe Focke-Wulf Fw 190 fighter changed his life. According to Eliot "He came at us head-on, firing. First engines one and two went out, then three and four. At fifteen thousand feet, we bailed out, all ten of us."
Landing in a field not far from Berlin, Eliot was quickly captured by a local farmer armed with a rifle. Eliot was ultimately interred at Stalagluft 1, in Barth, Germany; a camp containing primarily air corp officers. According to Eliot the constant hunger was the worst; otherwise he thought he was treated reasonably. In typical fashion he was downplaying how close he had come to losing his life. As a Jewish-American, and one recognized and segregated as such by his captors, he faced possible deportation to a much worse camp. However, Russian soliders liberated Stalagluft 1 in 1945.
Following the war Eliot began his six decade long career in the public eye as a radio and TV personality. In spite of going through wartime experiences that may have otherwise darkened an outgoing personality Eliot quickly established a comedic reputation that otherwise cut against the grain of the staid weatherman of his era.