WWII Era Munitions Injure German Beachgoers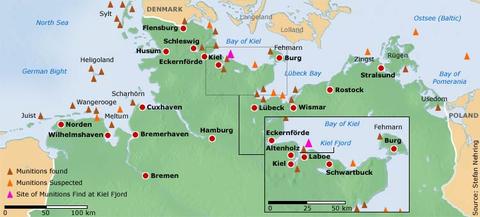 Thinking they had spotted some amber, two women suffered second and third degree burns this past weekend from coming into contact with what is believed to be WWII era white phosphorus they found at a beach on the island of Usedom along Germany's Baltic Coast.
One of the unfortunate outcomes of the Baltic Sea's significance as one of history's more fiercely contested regions is the immense quantities of unexploded munitions littering the seabed, contaminating the sea, or washing ashore as their metal casings rust out. Baltic fishermen alone net an estimated 3 tons of torpedoes, mines, bombs, and other such ordnance each year. In addition, earthquake measuring devices regularly record underwater explosions attributed to the discharge of old weapons. And, as two unfortunate women found out just a few days ago, unwary beachcombers and swimmers sometimes come across what remains exceedingly dangerous weapons. According to Denmark's records 20 people are injured each year in Danish waters - no less those hurt when coming into contact with explosives and chemical agents dumped in the waters of the numerous other nation's lining the Baltic's shores.
What's more the Baltic's status as a former dumping ground for captured munitions after World War II only makes the situation worse as the US alone dumped some half million Tabun (a highly dangerous nerve agent) filled explosives in the Baltic when clearing out Axis stocks following Nazi Germany's defeat.  Such is the state of the problem, one that many nation's choose to sweep under the rug, that many fear an ecological disaster awaits as more and more chemical agents disperse into the sea and up the food chain.  The map accompanying this post (courtesy of Spiegel) shows recent suspected and actual munitions dumping grounds - turning a region that should offer tremendous ecological, cultural, and entertainment value into a proverbial and actual minefield.