Sunk U-Boat Found off Cape Cod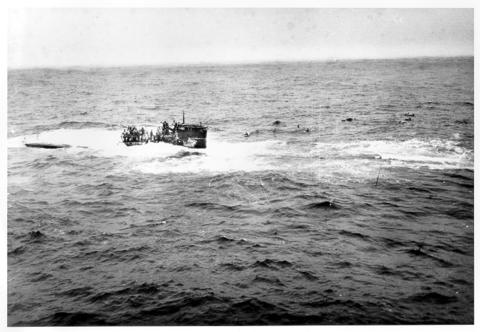 World War II era German submarine U-550, a Type IX C-40 U-boat, was found this past week roughly 70 miles off the coast of Nantucket, Massachusetts.  On April 16, 1944 U-550 discovered Allied convoy CU-2, which had departed from New York for the United Kingdom.
Straggling behind the convoy was the massive tanker SS Pan Pennsylvania, which U-550 promptly discovered and torpedoed; causing the tanker to begin to sink. The convoy's escorts, The US Navy's USS Gandy and Coast Guard's USS Joyce and Peterson, immediately pounced and sank the German U-boat after a brief engagement (the sinking U-boat and crew abandoning ship are seen in the picture). All three escorts split credit for sinking the U-boat. Twelve survivors from U-550 were plucked from the water, and most of the remaining crew members, 44 men, went down with their ship; entombed in a watery grave for the past seventy years until discovered last week by independent researchers using a ship equipped with side-scan-sonar.