Reunion for Concentration Camp Survivor and Liberator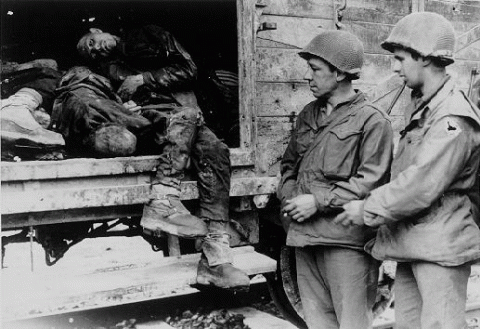 Holocaust survivor Ernie Gross, age 83, and U.S. Army WWII veteran Don Greenbaum, age 87, were able to meet late last year in Philadelphia some 66 years after they unwittingly shared a day at a place and time in history that few people would ever want to be; Dachau concentration camp in April of 1945.
On April 29, 1945 Greenbaum was a G.I. in U.S. General George S. Patton's Third Army when the Third Army reached Dachau and its surviving victims. Among those fortunate enough to still be alive was Gross, all 85 pounds of him - having survived nearly three years in the Nazi concentration camp system. Gross, a Romanian Jew, was only 15 when he and his family were arrested and sent initially to Auschwitz (where his parents and younger siblings were murdered). Gross was put to work as a laborer and was clinging to life when US soldiers swept into southern Germany, liberating Dachau, and saving his life.
Though Greenbaum and Gross, 83 don't remember meeting in April of 1945 they were happy to get together late last year when Gross, now living in Philadelphia, saw a newspaper article about Greenbaum. Though it was a searing experience for both men, each justifiably wants people to remember and bear witness to the great crimes of the Third Reich.