Naval History on the Delaware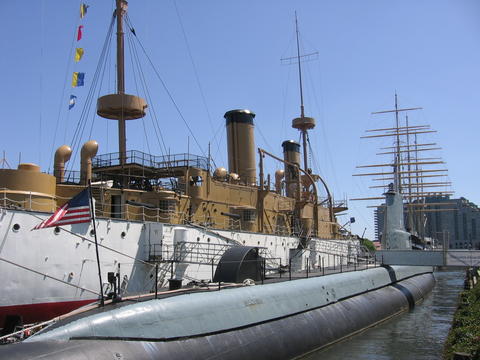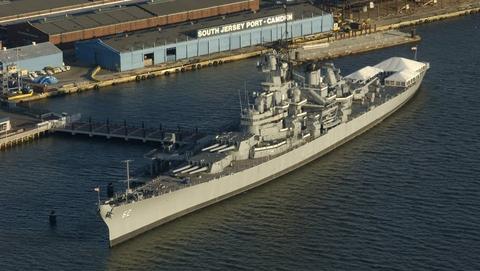 By Bryan J. Dickerson*
For naval enthusiasts and historians, there exists a unique opportunity on the Philadelphia / Camden waterfronts of the Delaware River. There one can physically walk through nearly a hundred years of naval history and technological development. 
Berthed on the Pennsylvania side of the river are the cruiser USS Olympia and the submarine USS Becuna (see first picture).  Just a couple hundred yards away on the New Jersey side sits the battleship USS New Jersey (see second, or bottom, picture).  Having completed their service to the Navy and the nation, all three retired warships have been preserved as floating museums.
USS Olympia and USS Becuna are part of the Independence Seaport Museum at Penns Landing in Philadelphia.  Olympia (C-6) was constructed in San Francisco, California and commissioned in February 1895.  She was armed with four 8-inch guns in two double gun-turrets, six 18-inch torpedo tubes, and an array of 5-inch, 6-pounder and 1-pounder guns in casemates.  Her 344-foot long hull displaced 5,586 tons, and was propelled by coal-fired engines.  Three years after commissioning, Olympia served as the flagship for Commodore George Dewey during the Spanish-American War.  From her decks on 1 May 1898, Commodore Dewey began the Battle of Manila Bay with the since famous words "You may fire when ready, Gridley." This battle marked the destruction of Spain's Asian Fleet. 
Thereafter Olympia served as part of the Atlantic Fleet during World War One, and then during 1918 participated in the Allied armed intervention in Murmansk, Russia.  In October 1921, she brought home from France the remains of the Unknown Soldier of World War One; to be interned at Arlington National Cemetery.  Following decommissioning she became a museum ship in 1957, and is the only warship from the Spanish-American War still afloat.
Berthed alongside Olympia is USS Becuna (SS-319).  Affectionately known as "Becky" by the Independence Seaport Museum staff, she was built by the Electric Boat Company in Groton, Connecticut and placed in commission on 29 May 1944.  She measures 311 feet long and is armed with ten 21-inch torpedo tubes, along with a single 5-inch gun, one 40mm gun, and one 20mm gun.  During World War Two, she completed five war patrols, sinking a tanker and helping to sink a freighter. She also endured a heavy depth charge attack by two Japanese escort vessels.  After the war, her three deck guns were removed.  In 1950-51, she underwent "Guppy" (Greater Underwater Propulsive Power--GUPP) IA conversion giving her additional electric batteries, a snorkel and streamlined sail.  The snorkel allowed her to sail using her diesel engines while still submerged.  Decommissioned in November 1969, Becuna became a museum ship in 1976.
Opposite Philadelphia, on the New Jersey side of the Delaware River in the city of Camden, the battleship USS New Jersey (BB-62) has been preserved as one of the grander museum ship's you will ever see.   Constructed at the Philadelphia Navy Yard and placed in commission on 23 May 1943, New Jersey is one of the most decorated and longest serving warships in U.S. Navy history.  She saw service during World War Two, the Korean War, the Vietnam War, the Cold War, and the 1983-84 peacekeeping mission in Beirut.  She is 887 feet in length with a beam of 108 feet, and a displacement of 45,000 tons.  She was originally armed with nine 16-inch guns in three triple gun-turrets, twenty 5-inch dual purpose guns in ten double gun-turrets, and an array of 40mm and 20mm anti-aircraft guns.  Her light anti-aircraft armament was later removed following World War Two.  During World War Two, she protected aircraft carriers with her anti-aircraft batteries, and provided naval gunfire support for various island invasions.
During the Korean and Vietnam Wars and the Beirut peacekeeping mission, she again provided naval gunfire support for American and Allied forces ashore.  She was decommissioned and placed in Reserve from 1957 to 1968, and again from 1969 to 1982.  Brought back into service in 1982 as part of that era's US military build up, New Jersey's already formidable weaponry was significantly improved by the addition of Tomahawk cruise missiles, Harpoon anti-ship missiles and the Phalanx Close-In Weapons System (CIWS).  She was decommissioned for the final time in 1991, and became a museum ship in 2001.
Walking the decks of these three distinguished warships allows one to physically walk through a significant portion of U.S. naval history; a period of time stretching from the Spanish-American War all the way through the end of the Cold War era in 1991. On Olympia you can stand where Commodore Dewey commanded the U.S. fleet at the Battle of Manila Bay and on New Jersey you can walk where Admiral William Halsey commanded the potent Third Fleet.  In addition, and for technical enthusiasts these three ships allow one to trace the development of naval weapons systems from naval guns and torpedoes all the way up to today's guided missiles and most modern radar tracking systems. 
For hours of operation and admission fees, visit the Independence Seaport Museum website at http://www.phillyseaport.org/and the Battleship New Jersey Museum website at http://www.battleshipnewjersey.org/   In addition, The Seaport Museum also boasts an impressive archives and collection of maritime artifacts and exhibits in its building adjacent to the ships.  Unfortunately due to high maintenance costs, the Seaport Museum will be selling Olympia to another museum group in the next year or two. 
Touring all three warships can easily be accomplished in the same day.  Parking is available near both museums.   Driving between the two locations may be accomplished via the Ben Franklin Bridge that connects Philadelphia and Camden.  Or you can park at one museum and take the River Link Ferry across the Delaware to visit the other museum.  Check their website for ferry schedule and fees at http://www.riverlinkferry.org/.
Additional information about Olympia, Becuna, and New Jersey may be found in the Dictionary of American Naval Fighting Ships found online at http://www.history.navy.mil/danfs/.
--------------------
*Bryan J Dickerson served as a Religious Program Specialist in the U.S. Navy Reserve for eight years, mobilizing and deploying twice to Iraq for Operation Iraqi Freedom.  He served with the U.S. Marines MWSS-472 from January 2008 until June 2011 and served as Assistant Squadron Historian in 2009 and Squadron Historian in 2010/2011 as a collateral duty.  He was honorably discharged in June 2011 as a Religious Program Specialist First Class (Fleet Marine Force). The photograph of USS Olympia and Becuna provided herein is also courtesy of Bryan J Dickerson.