Michigan's Contribution to WWII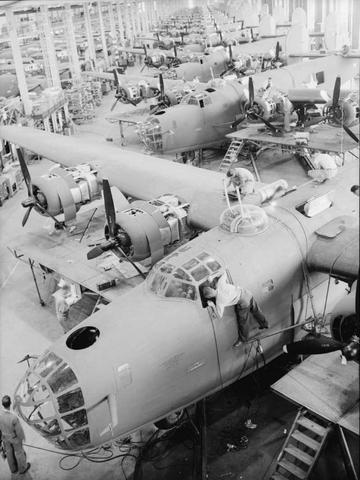 Many of you may know that I was born and raised in Michigan. Every once in a while I like to highlight that fact by focusing on Michigan's contribution to our nation's defense during WWII.
For instance, did you know that the federal government granted Michigan contractors ten percent of U.S. spending on war related purchases. This meant Michigan garnered the second most war related funding of any state (The State of New York came in first). What did that money buy? Quite a bit.
Perhaps most impressive is that Willow Run (see picture of B-24's being manufactured there) was only a part of the tremendous armament's output of Metro Detroit factories. On February 9, 1942 auto manufacturing ceased. And the car companies went to work making munitions at a rate that outpaced any other location in the world. Plants were retooled, some factories were reinforced and upgraded, others were closed and rebuilt to better crank out tanks, jeeps, trucks, etc... in quantities Hitler could only dream of. Chrysler alone built 25,000 tanks in just four years. And this output went well beyond armored and soft-skinned vehicles.
For example, General Motors built the majority of the nearly 10,000 Grumman Avenger torpedo bombers produced. Pontiac built more 20-mm anti-aircraft cannons on license than the existing Swiss manufacturer of the weapon (Oerlikon) could have imagined possible. Oldsmobile cranked out some 48 million rounds of artillery shells. Buick built 1,000 aircraft engines per month, and Michigan factories produced four million engines during the war. Detroit factories manufactured rifles, mess kits, gyro compasses, gun feeds, map cases, and more...
But we can't forget the tanks. Oh the tanks. The Detroit Tank Arsenal tank assembly plant located in Warren Michigan (a suburb of Detroit just north of the city limits) built half of all the tanks the U.S. manufactured during WWII. Mind you there were 17 U.S. factories building tanks, so this gives you some idea of what this huge plant's workers were accomplishing.
And speaking of the workers, with all of that federal spending Michigan's unemployment rate dropped to 0.6 percent (from 15 percent in 1940). This was in spite of the fact that from 1940 to 1943 Michigan took in more than 500,000 people (mostly from the South) to work in it's factories. In addition over 600,000 of Michigan's residents served in the U.S. armed forces during WWII, out of a population of just over five million people. This includes my grandfather, Sergeant Joseph Budzinski, who fought for the U.S. Army in the Pacific. And finally, nearly 30,000 service members from Michigan were killed or wounded during the war. A sacrifice that can never be fully appreciated.