Last USN Destroyer From Battle for the Atlantic Repaired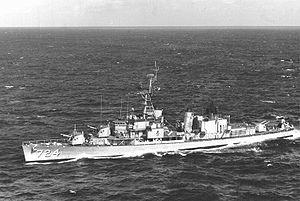 The USS Laffey is best remembered today as the "ship that would not die" - this moniker given after the 2,200 ton destroyer survived five kamikaze and four bomb strikes that caused 103 casualties, from a crew of 336, all while the ship was on picket duty off Okinawa in the spring of 1945. However, what also must be remembered is that the USS Laffey, launched in 1943, is also the sole surviving World War era US Navy destroyer to have participated in the epic Battle for the Atlantic fought between the Allies and Nazi Germany. The Laffey also participated in the D-Day invasion of France, the Korean War, and served during much of the Cold War.
Thankfully, this historic ship has just completed a slew of repairs to its hull which will allow it to continue to serve as a reminder of the Second World War and the supreme sacrifice needed to win what was a brutally tough and closely fought struggle for global dominance. The USS Laffey can be found at the Patriots Point Naval and Maritime Museum at Charleston Harbor, South Carolina. Having been to Charleston and the museum, where the WWII era aircraft carrier USS Yorktown and other attractions vie for your attention along with the Laffey, I can say it is well worth the visit.