Last Two Flyable Avro Lancaster's Together in UK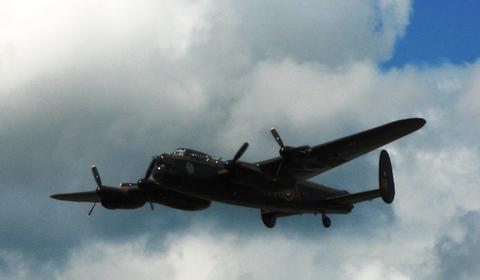 There are 17 intact Avro Lancaster Bombers remaining in the world. Nevertheless, only two are flyable. One is an Avro Lancaster from the Canadian Warplane Heritage Museum, the other is Britain's and is flown by the Royal Air Force's (RAF) Battle of Britain Memorial Flight (BBMF).
Last week the Canadian Lancaster arrived at RAF Coningby, Lincolnshire, U.K to join its British peer. The two bombers will spend several months touring the UK as part of a busy schedule of 60 airshows. Though some might wonder why one of the only two flyable Lancaster's left in the world is Canadian; remember that the Canadian contribution to the Allied cause was significant. Of the approximately 56,000 fatalities incurred by the RAF's (Royal Air Force) Bomber Command aircrews roughly 10,000 were Canadian (flying either with the RAF or RCAF (Royal Canadian Air Force)).
Bomber Command's No. 44 Squadron (nicknamed "Rhodesia" as a quarter of the squadron's air and ground crew were Rhodesian) was the first RAF squadron fully equipped with Lancaster's; achieving this distinction by March of 1942.The Lancaster represented a vast upgrade over its predecessors, and featured the largest bomb bay of any strategic bomber to fly in WWII's European Theater of Operations. It also delivered the vast majority of Bomber Command's tonnage dropped during the air war against Nazi Germany (flying 156,000 sorties with 608,612 long tons of bombs dropped by the war's end in May of 1945).
Nonetheless, the Lancaster also suffered enormous combat losses to German night fighters and Flak (Fliegerabwehrkanone). Of 7,377 built some 3,249 were destroyed in combat operations.No. 44 Squadron, by virtue of being in the thick of the fighting throughout the Second World War, ended up enduring the third highest casualties of any Bomber Command squadron. This included the loss of 149 Lancaster's in 4,362 sorties, with another 22 Lancaster's destroyed in crashes. 
---------------
Photograph courtesy of Steven Mercatante (taken on July 19, 2009 at the Willow Run "Thunder over Michigan" Air Show at the Willow Run Airport, Michigan).