Final Voyage of the World's Last Battleship Begins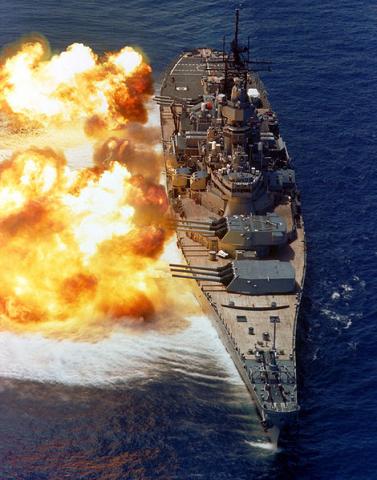 Late last week the USS Iowa (BB-61), the lead ship in the final class of US battleships ever built, began a voyage from Suisun Bay, California that will ultimately end in Los Angeles - where she will serve as a floating museum.
Laid down in June 1940 and commissioned in February 1943 the Iowa weighed in at 45,000 tons, was 887 feet long and included a crew of over 2,750 officers and men. Her potent main armament of nine 16 inch (406mm) guns could rain one ton shells down onto targets over 20 miles away. Bristling with additional weaponry, including twenty 5 inch guns, dozens of light cannon and heavy machine guns, and, in her later years, almost 50 cruise and anti-ship missles - the Iowa was one of the most powerful warships ever built. Only the immense 72,000 ton Japanese World War II era battleships Yamato and Musashi outclassed the Iowa and her sister ships; with each Japanese battleship mounting as its primary armament nine 18 inch (460mm) guns - the largest guns ever fitted to a warship.