Auschwitz on the Seventy Year Anniversary of its Liberation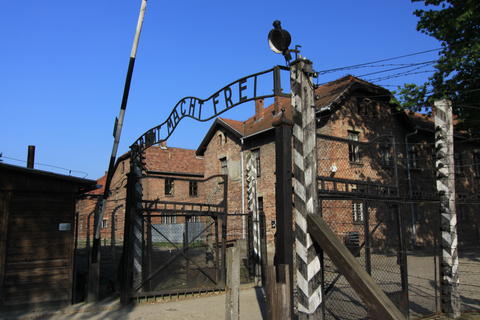 Today, Tuesday January 27th, is International Holocaust Remembrance Day. It has been 70 years since the Red Army liberated Auschwitz-Birkenau on January 27, 1945.
Auschwitz is actually more than just one camp. At its peak it included a network of dozens of camps all built and operated during World War II by Hitler's Third Reich in Silesia in occupied Poland. Auschwitz I and nearby Auschwitz II-Birkenau were the two main camps. Auschwitz I was primarily a work camp though tens of thousands died there. Auschwitz II-Birkenau  was the extermination camp where the majority of the Nazi's estimated 1.1 million victims of the Auschwitz camp system were killed.  Though the majority of those Jews killed in the Holocaust died elsewhere, more people (Jews, Roma, homosexuals, Polish prisoners, Soviet prisoners of war, and others) died at Auschwitz than at any other location.
In September of 2014 I visited Auschwitz. At this website's World War II gallery (see World War II gallery pages 7 and 8) you can find 14 photos I took of Auschwitz today as well as corresponding descriptions of the horrors unleashed at those locations seventy plus years ago.