The 70th Anniversary of The USS New Jersey's Commissioning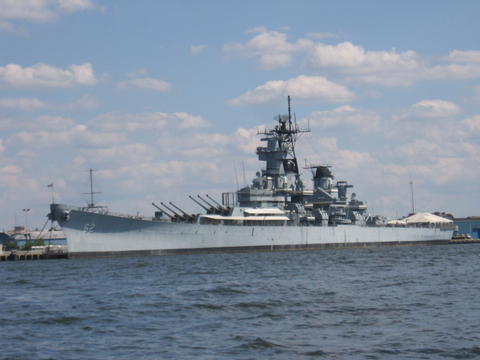 By Bryan J Dickerson*
There are several important milestone events in the life of a warship. Of particular importance are those proceedings surrounding the ship's launching and retirement from active service. Such events include the keel laying, launching, commissioning, decommissioning, and final disposition of the ship. On 23 May 2013 one of history's most powerful warships, the battleship USS New Jersey (BB-62), will celebrate the 70th Anniversary of its commissioning.  
USS New Jersey is the second of the Iowa-class fast battleships.  The four Iowas (Iowa, New Jersey, Missouri and Wisconsin) were the biggest, hardest hitting surface warships ever constructed by the United States; and were the last class of American battleships to serve in the fleet.  They each had a length of 887 feet, a beam of 108 feet, a draft of nearly 29 feet and displaced over 45,000 tons. Originally armed with nine 16-inch guns in three triple turrets, twenty 5-inch dual purpose guns in ten double turrets, and numerous 40mm and 20mm anti-aircraft guns; the Iowa's were repeatedly modernized and upgraded over the years.  When ultimately decommissioned in the 1990s, the Iowa Class battleships also boasted a slew of modern weapons systems - including Harpoon anti-ship missiles and Tomahawk cruise missiles (all in addition to their 16-inch and 5-inch guns).   
USS New Jersey was laid down at the Philadelphia Navy Yard on 16 September 1940, and launched on 7 December 1942 -- the first anniversary of the Pearl Harbor attack. She was placed in commission on 23 May 1943, and entered service with the Pacific Fleet in January 1944. In the succeeding months, New Jersey participated in naval operations as part of the Fast Carrier Task Force and employed her guns in shore bombardment in support of the Marianas, Philippine, Iwo Jima and Okinawa invasions. She also participated in the epic naval Battles of the Philippine Sea and Leyte Gulf, with the latter the largest naval battle in history.  On several occasions, she also served as Flagship for U.S. Admiral William F. Halsey.  
After World War Two ended in September 1945, New Jersey served for several more years in the Fleet until being decommissioned on 30 June 1948. Nevertheless, on 21 November 1950 she was recommissioned, and the following year began providing gunfire support for United Nations forces ashore fighting against North Korean and Communist Chinese Forces in the Korean War.  She served with the Fleet for several years after the Armistice ended fighting in the Korean War. On 21 August 1957, New Jersey once again was decommissioned and placed in reserve.  
Ten years later, USS New Jersey was brought back into service for another war in the Far East. On 6 April 1968, New Jersey was recommissioned and that September, began providing gunfire support for U.S. forces engaged in the Vietnam War. On 17 December 1969, New Jersey again was decommissioned and placed into the reserve.  
In 1982 all four Iowa Class Battleships were modernized and called back into service; including the New Jersey on 28 December 1982. In 1983, New Jersey deployed to the eastern Mediterranean Sea to provide gunfire support for U.S. Marines conducting peacekeeping operations in Beirut, Lebanon. New Jersey remained in active service until  9 February 1991 when she was decommissioned for the final time.  
But unlike most of America's battleships, New Jersey was not destined for scrapping.  Indeed, all four Iowas were spared this fate. Thanks to efforts by battleship supporters, veterans, and enthusiasts, New Jersey was transferred by the Navy to the Battleship New Jersey Museum Foundation for preservation as a museum ship. She was towed from the West Coast to the Philadelphia Navy Yard in November 1999 for conversion to a museum. Today, she is berthed in Camden, New Jersey, across the Delaware River from her birthplace (see author's picture taken from the port quarter view). 
For her service, USS New Jersey was awarded a total of nineteen battle and campaign stars, making her one of the most decorated warships in U.S. Navy
history.
--------------------------------------------
*The author served as a Religious Program Specialist in the U.S. Navy Reserve for eight years, mobilizing and deploying twice to Iraq for Operation Iraqi Freedom.  He served with the U.S. Marines MWSS-472 from January 2008 until June 2011 and served as Assistant Squadron Historian in 2009 and Squadron Historian in 2010/2011 as a collateral duty.  He was honorably discharged in June 2011 as a Religious Program Specialist First Class (Fleet Marine Force).