A US M-8 armored scout car passes under the Arc de Triomphe after the liberation of Paris in August 1944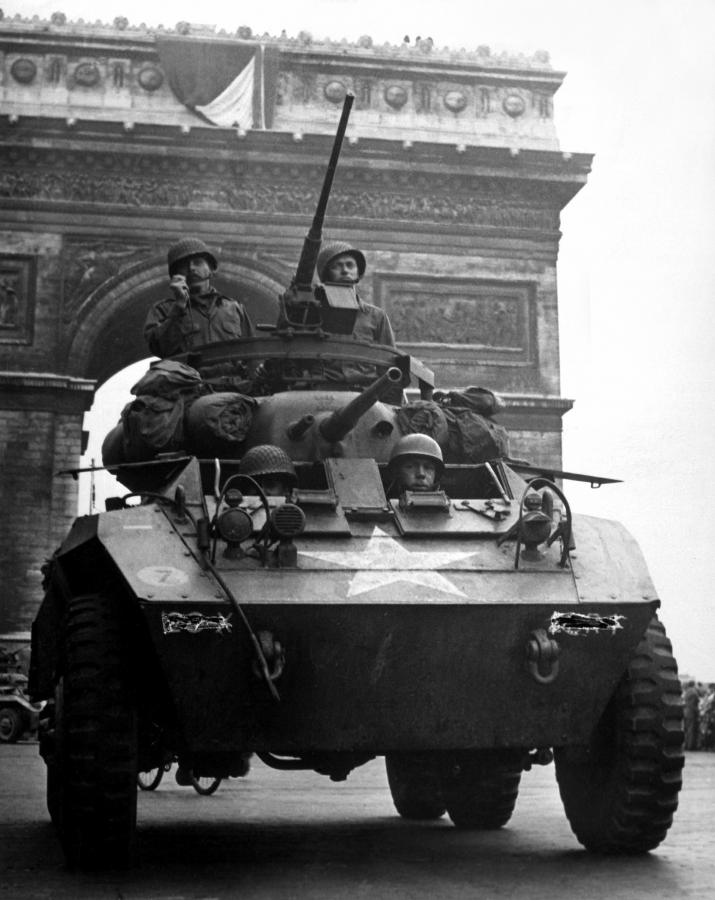 Description:
In September of 1943 the US Army formally announced the final major re-organization for its Second World War armored division's force structure; though this would initially not apply to the 1st, 2nd and 3rd Armored Divisions - stationed at the time in Italy for the former and England for the latter two divisions. These three armored divisions retained most of their former "heavy" force structure, with greater numbers of tanks, though tinkering throughout the remainder of the War, left each with more of a hybrid force structure than allowing for any of them to be classifiable as a true 1942 era or September 1943 era armored division. The US Army ultimately fielded 16 armored divisions in the European Theater of Operations (ETO) and for the remaining thirteen, already formed or created subsequent to September of 1943, the M8 armored car, built by the Ford Motor Company, served as their primary reconnaissance vehicle.
Integral to each of these armored divisions TO&E was a single mechanized cavalry reconnaissance squadron. Even though to a layperson the name "squadron" may seem to imply a smaller tactical unit, in reality each squadron included 973 officers and men; or approximately 200 more men than in each of the armored division's tank battalions. In addition to its strong complement of manpower, the reconnaissance squadron enjoyed a lavish amount of equipment including; 20 M5A1 light tanks, 8 M8 75mm HMC assault guns, created by mounting a short-barreled 75mm gun in an open topped turret on a M5A1 chassis, 52 M8 armored cars, and 32 half-tracks. The "heavy" divisions contained an armored reconnaissance battalion instead but, for all practical purposes, it was similarly equipped to the cavalry reconnaissance squadron.

In spite of its impressive size and on paper mobility the cavalry reconnaissance squadron proved less than optimally equipped for carrying out its primary reconnaissance role. In part this was because of its dominant vehicle; the M8 armored car. Its crews ended up less then thrilled with the vehicle even though it was exceptionally fast, mostly reliable, possessed an excellent range, and, what' s more, Ford built some 8,523 by the time production ended in June of 1945. The lack of satisfaction with the M8 mostly stemmed from it's wheeled configuration, lacking tracks, its off-road mobility proved limited and thus the unit lacked the maneuverability to avoid sticky situations. Furthermore, the squadron struggled to obtain  information without having to fight for it. When forced to fight the M8 had several strikes against it. For one it lacked enough armor, the majority of the armor could only consistently stop small arms fire and the underside of the vehicle was particularly vulnerable to mines. Second, for a late war AFV it was woefully deficient in hitting power, equipped with a 37mm main gun and coaxially mounted .30-caliber light machine gun. As a result, U.S. armored division commanders frequently tried to replace many of their M8's with vehicles capable of far more persistence on the late war battlefields of World War II including requesting more M5A1 light tanks or, even better, the superb M24 light tank and its potent 75mm gun.
(Picture courtesy of the US National Archives, ARC identifier 535975)