Soviet Riflemen equipped with PPsh-41 submachine guns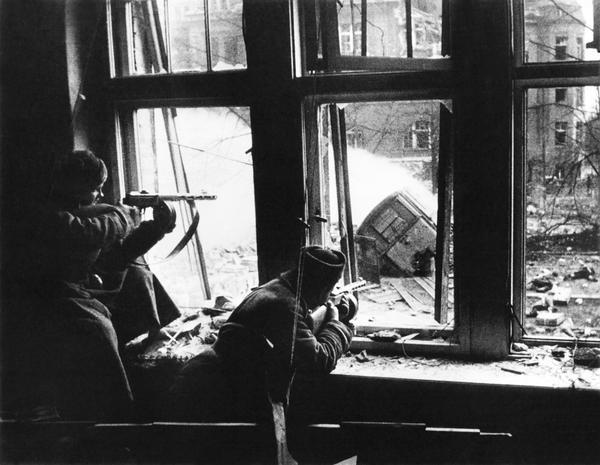 Description:
The Winter War fought between the Soviet Union and Finland during 1939-1940 ended with Stalin forcing Finland to come to terms favorable to the Soviet dictator. However, it had been a costly victory. The Red Army endured over 126,000 dead and 300,000 wounded. Nevertheless these same losses helped the Red Army learn invaluable lessons; lessons that may have helped save it to stave off final defeat against Germany during 1941-42.

Among the many lessons learned was the value a portable, light automatic weapon presented to soldiers fighting on the modern battlefield. When the Winter War began the Finns ranked among the world leaders in automatic weapons usage. Finnish automatic weapons included the  9mm Suomi M-31 submachine guns, and an early assault rifle; the 7.92 mm M26 light machine gun (LMG). Even though classified as a light machine gun the M26 proved more similar to the American Browning Automatic Rifle (BAR) than a characteristic LMG; though heavy by modern assault rifle standards the M26 weighed less than the BAR. The Russian's suffered enormous casualties fighting Finnish infantry armed with such firepower. In 1939-40 only the German army employed automatic weapons as extensively as did the Finnish army. That said, the German infantry's reputation for heavy firepower primarily arose from liberal use of true crew served machine guns possessing high rates of fire. German infantry mostly lugged bolt-action rifle into combat. Thus, during the Winter War, the Red Army painfully learned what light automatic weapons could do, and later used simple but ruggedly built submachine guns to great effect against the Germans.

One submachine gun in particular quickly took center stage as the Red Army's pre-eminent source of individual firepower. Designed by weapons manufacturer Georgi Shpagin the PPsh-41 submachine gun had several notable qualities that made it an effective weapon. For one, it was reliable, its chrome-lined chamber and bore proved very easy to maintain in the field. Second, it packed a significant short-range punch with its large box or drum magazine packed with 7.62x25mm pistol rounds made all the more accurate at close ranges with its light recoil. Therefore, almost anyone holding this easily handled weapon could quickly spray dozens of rounds at a target -helping to make up for highly abbreviated training courses. Such a weapon proved crucial to the success of a 1941-42 era mass-conscript Red Army lacking the time and the means to produce highly trained soldiers capable of accurately directing semi-automatic rifle fire at their foes as was representative of the German Army's draft classes during the first years of the war. First produced late in 1941 the PPsh proved so easy to manufacture and so effective in the field that it quickly entered mass production and became a prized trophy by Soviet and German soldiers alike; especially valued for operating in close combat and urban fighting.
(Photo courtesy of The Dmitri Baltermants Collection/CORBIS)