USS Augusta (CA-31) Steaming off Portland, Maine May 9, 1945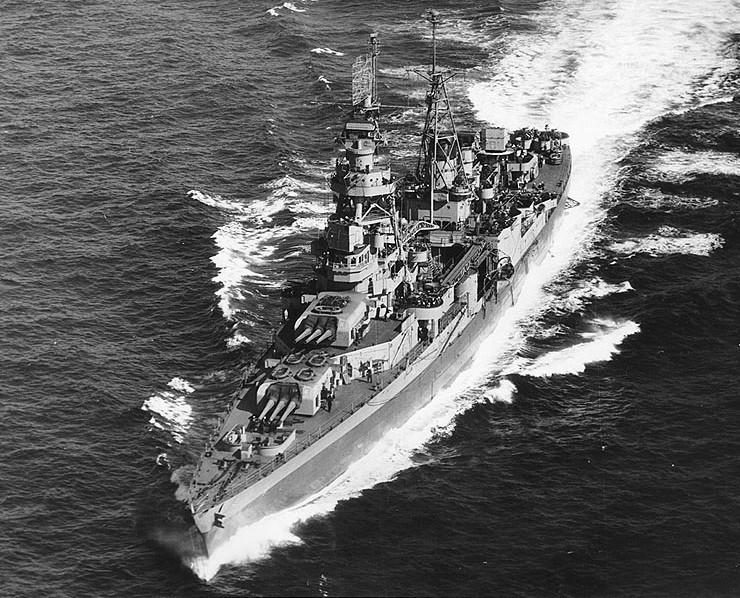 Description:
The USS Augusta, although far from a household name, was involved in many of the most important Allied operations during the Second World War. The Augusta weighed in at 9050-tons and was built as a Northampton class light cruiser. The ship already had a full decade under its belt prior to US entry into the War as it was commissioned in January 1931. In July 1931 the Augusta was reclassified as a heavy cruiser and redesignated CA-31. Although known for her primary World War II role as the US Atlantic Fleet flagship the Augusta spent her first eight years in the Pacific Ocean as the US Asiatic Fleet's flagship. The Augusta was even involved in combat prior to the beginning of the Second World War; when she was accidently bombed by Chinese aircraft and then struck by a Chinese anti-aircraft shell in August 1937 - with the latter incident killing one crewmember.

After being modernized, the Augusta was named the Atlantic Fleet flagship in May of 1941. In August, the she had the honor of transporting President Franklin D. Roosevelt to Newfoundland for a special meeting with the British that led to the Atlantic Charter. The Augusta did more than transport dignitaries, she also escorted convoy's, was assigned to the British Home Fleet for much of 1943 and used her potent armament to soften up Axis positions during numerous Allied amphibious assaults. For instance, during Operation Torch, the November 1942 Allied invasion of North West Africa, the Augusta's eight inch guns helped convince the Vichy French in Morocco to cease their initial resistance against the Allies. In addition, the Augusta participated in the D-Day invasion of June 1944 and the Allied invasion of Southern France in August 1944. The Augusta also transported President Harry S. Truman across the Atlantic both to and from the July 1945 Potsdam Conference.




Picture Courtesy of United States Navy, from the Collection of the Naval Historical Center - Photo ID #: NH 97932 (Photographed from a Utility Squadron 15 (VJ-15) aircraft).